Beaches, warm weather, and more bang for your buck – these are some of the things you might think about when you consider moving to Florida from New York.
Moving is a significant step to take, especially going such a long distance, but there are many reasons to consider taking the leap. In this guide, we will share reasons that moving from New York to Florida might be right for you and help you plan for the process of moving and finding a moving company to do so.
So, prospective movers to Florida, read on!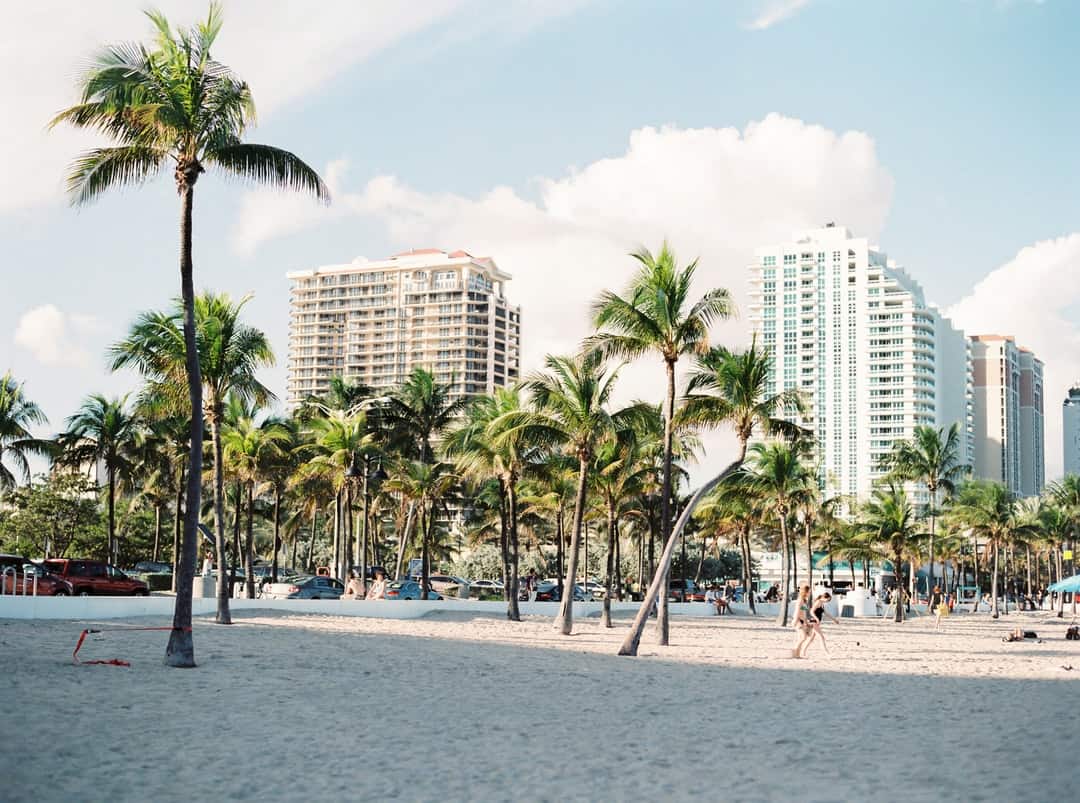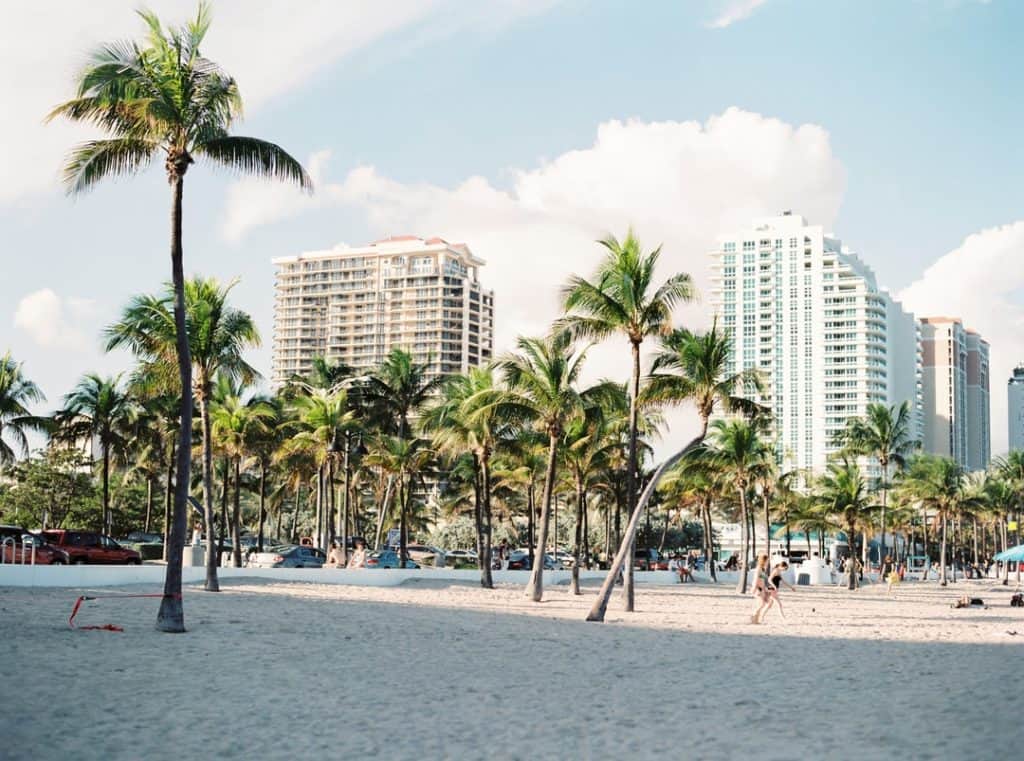 Pros and Cons of Living in Florida
Like every state, there are both awesome advantages to life in Florida as well as some downsides. What matters the most is that you research both the good and the bad to decide whether the good in Florida outweighs the bad and makes Florida a better choice for your home than New York.
Pros of Moving to Florida
First, let's talk about what is attractive about Florida! These draws may feel far away, but they could become a reality for you once you plan your move.
Climate and Geography
The first thing most New Yorkers think of when they think about Florida is its weather. Especially in the midst of a New York winter, it is dreamy to imagine lying out in the sun on a Florida beach. And it is certainly true that in Florida, you are very unlikely to face any frigid, snowy days.
Temperatures in Florida remain warm throughout most of the year. This makes it a great place to live if you prefer warmer weather and sun and do not long for snowy winters. Keep in mind that you should research different regions of Florida because some areas do get colder weather in the winter.
The geography and nature in Florida are also a plus! With hundreds of miles of beaches, wildlife-rich nature areas, and the beautiful marshland of the Everglades, there is natural beauty abounding in the state.
Tourist Attractions
There is a reason so many people vacation to Florida every year – it offers a wide variety of tourist attractions, including world-famous amusement parks and cities with exciting beachfront nightlife.
Moving to Florida means these attractions can be constantly at your fingertips. Some, like Disney World and Universal Studios, even offer occasional deals for Florida residents! This aspect of Florida makes it a fun place to be.
Economy and Business
A wide variety of business sectors have firmly established themselves in Florida. The tourism industry is one of these. Other significant industries include agriculture, international trade, and the exciting field of aerospace and aviation!
If you already work in one of these industries, you may find that advancing your career and relocating to Florida can go hand in hand. Not to mention, as remote work increases in popularity, moving to a place of your choice is becoming more possible.
A Place for Everyone
Perhaps one of the biggest pros about moving to Florida is that the state offers a place for everyone!
Some movers to Florida might be interested in a cosmopolitan environment that feels more like a big city they are used to – look no further than Miami, a hustling, exciting south Florida city.
Other movers may be looking to retire in a warmer locale. Options abound, with cities like Ocala drawing retirees and developing relaxed communities.
The state is very diverse and cultural institutions and festivals celebrate this.
Cons of Moving to Florida
Not everything in Florida will be an improvement over what you have experienced in New York. But you may find that the positive changes outweigh the negative ones. Read on about a few potential cons so you can decide for yourself.
Weather
While Florida's weather is a major draw, not everyone loves warm weather all of the time. If you love to see clear season changes, you cannot expect to see these in Florida.
Also, the summer in parts of Florida can become extremely hot and muggy, and the state does witness hurricanes regularly. On the other hand, a blizzard or ice storm is extremely unlikely in Florida.
Touristic Quality
If living in a very popular tourist area does not appeal to you, there are certain parts of Florida which you should consider avoiding, such as Orlando.
However, if tourism is a turn-off for you, that may not be the cause to completely reject the idea of moving to Florida. The state is large – over 65,000 square miles – so there are parts of the state that do not have the same large tourism numbers as others.
Competition in House Hunting
Since Florida has become a popular place for movers, you may face some increased competition when house hunting.
While this may make the process of moving somewhat more difficult, it confirms that moving to Florida is a popular decision to make.
Life in New York vs. Florida
Now that you have a sense of some of the overall advantages and disadvantages to Florida, you may be wondering about more specific differences people face as movers to Florida from New York. Read on to learn about some specific differences between the two states.
Cost of Living
On the whole, it is less expensive to live in Florida than it is in New York. The cost of living varies in each state depending on where in the state you live, but on average, you can spend less money on your housing and necessary expenses in Florida.
Weather Differences
We discussed the weather above, but it is worth emphasizing that a move from New York to Florida means a move from very chilly winters and leaf-changing autumns to hot, sunny summers and mostly warm temperatures throughout the rest of the year, too.
You may need to change up your wardrobe a bit when you make the move!
State and City Income Tax
Florida does not have state and city income tax, which differs directly from New York. This serves as a draw for many movers to Florida.
You will want to look further into what that means for you and your circumstances.
Transportation
Neither Florida nor many of its cities are known for strong public transportation systems. Depending on where you live in New York, this may not be a big change for you, but for some people, like residents of New York City, it will be.
If moving to Florida, be prepared to drive as your primary form of transportation! The state does have multiple interstate highways that connect all of its biggest cities.
Moving to Florida
With all of this information under your belt, you might be feeling ready to make the big move! Moving is a big step, but don't let that intimidate you!
Read on for some advice for moving from NY to FL.
Tips for Movers to Florida from New York
Moving to Florida from New York is going to be a journey of at least 990 miles, and that's only if you are traveling between the points in each state closest to the other. For most NY to FL moves, you will be traveling well over 1000 miles.
You need to be personally prepared for the big journey and be sure that your belongings will get to your new home safely and quickly. Here are some tips to make the move a big success.
Choose a Licensed Moving Company
Many moving companies offer services from New York to Florida. Investing in a licensed and insured moving company is an essential step to take for such a big move. You can get a moving quote to determine how much the move will cost.
By going through the process of verifying a company's legitimacy before hiring its services, you will feel confident that your belongings will be delivered quickly and carefully to your new Floridian home.
You don't have to figure this out all by yourself. Services like ours here at Moving Relocation can help you find a licensed company.
On such a long drive, your furniture and other items are also at higher risk of damage. That's why you should also consider a moving company's reviews. From reviews, you can learn whether past customers have been happy with the packing and handling that their items received on their move.
Prepare Your Car
The easiest way for you to get to your new Florida residence from New York is by car. Make sure your car is prepared for the long journey.
Preparations should include filling your gas tank, checking your tire pressure and adjusting it if needed, and performing any other routine maintenance. It is best to be as prepared as possible because you'll be too excited to want to have to make any unnecessary stops on your way to your new home!
Once you get to Florida, you'll also be happy to have your car with you. It will let you easily get around your new city to buy groceries and anything you need to get the house ready. And once you're settled in, you'll be ready to explore!
Consider Moving in the Summer
Moving to Florida in the summer has a couple of benefits. For one thing, it will separate you from the northerners who Floridians know only come to their state for the winter. This way you may be able to distinguish yourself as someone eager to join the community as a year-round resident.
Another advantage is that you won't risk driving through dangerous snowy and icy conditions in the first part of your journey. Winter can bring snow and cold weather to many states located further south than you might expect. But in the summer, this should not be a concern.
And when you arrive in Florida you'll be ready to jump right in the ocean to take a swim!
Where Can Moving Companies Go?
With all of the great New York to Florida moving companies out there, you can find one that can get you from nearly any place in New York to any place in Florida.
Here are a few of the best cities in Florida to live in that moving companies serve:
Tampa – a beautiful Gulf Coast city
Miami – an exciting blend of beaches and culture
Naples – the U.S city with the best feeling of well-being as of 2019
Jacksonville – the biggest city in Florida
Orlando – an amusement park hub, perfect for adrenaline junkies
Not coming from New York? Wherever you are relocating from, maybe New Jersey or Illinois, there are long-distance movers that can get you to your dream home in Florida.
Movers to Florida are likely excited and possibly a bit nervous about the move, and that is to be expected!
If that is you, remove some of the pressure you are feeling about the move by delegating the major task of moving your belongings to a moving company. Depending on the company and service you choose, moving companies can provide you with packing materials and even do the packing for you!
Start Planning Your Move Today
Moving services, including packing and taking the burden of transporting your items off of your shoulders, will let you focus on any other personal and professional business that needs to be taken care of so that your move can go as smoothly as possible.
Moving Relocation has a huge network of reputable moving companies that are ready to help movers to Florida. Please feel free to contact us to get a moving quote, find the best moving company for you, and ask any questions you may have.
Our track record with more than 897,560 families stands to prove that you'll get precisely the care you need and more when you're ready to head on down to Florida from New York. Feel free to submit our quote form. Or call us any time to get a quote and start preparing for your move as soon as possible.
Compare Instant Moving Quotes from Licensed A+ Rating NY to Florida Movers NY to FL.
Licensed Top Rated Movers NY to Florida Moving Companies
Get FREE, NO Obligation Moving Quotes. COMPARE & SAVE!
With Over 20 Years of Experience In Moving and Relocation Service and over 897,567 (and counting) Satisfied Customers and Most Professional Movers that provide Moving Service from NY to Florida.
We are sure you will save Time & Money!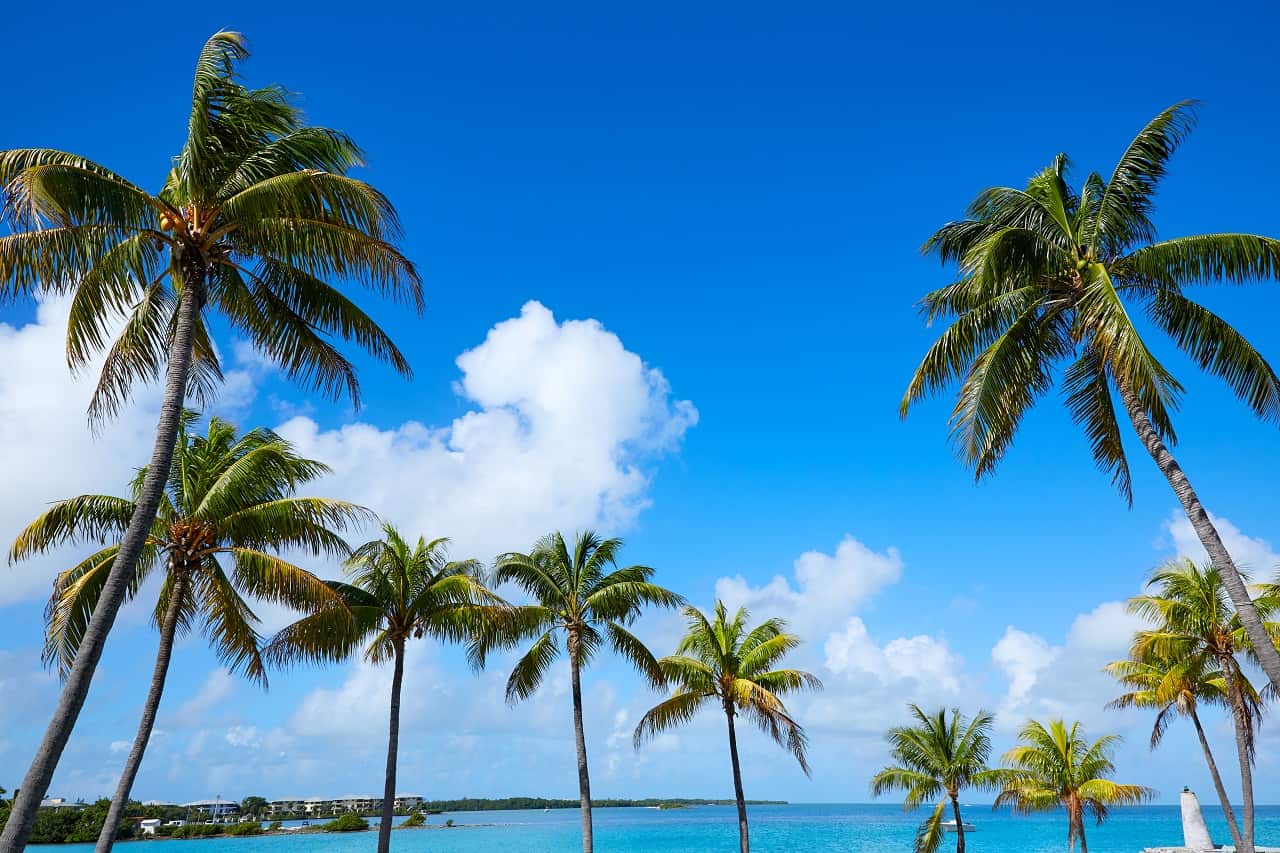 Moving from NY to Florida will mostly be charged based on weight or Cubic feet (depending on the size of shipment).
There may be additional charges such as Packing Services, crating, Stair charges, high-value items, etc.
This, you will discuss with the Moving Representatives. When TOP MOVERS COMPETE, YOU WIN!
With a Network of Over 500 Moving companies, we hope we can assist with reducing the stress Moving can cause.
Just fill-up the Short Form in less than 60 seconds. You will get Moving Quote Prices Instantly.
Browse our site for Moving Tips and Advise about moving from NY to Florida Moving Companies
Enjoy Florida.
---
Things to Check Out Before Choosing a Moving Company from New York to Florida
Research and compare: Start by doing some research to find moving companies that serve from New York to Florida. Look for reviews and ratings online and compare prices from multiple companies to find the best deal.
Reputation: Research the reputation of the moving companies you are considering. Look for reviews online and ask for references from past customers who moved to Florida.
Check for licenses and certifications: Look for companies that are licensed and certified by the Federal Motor Carrier Safety Administration (FMCSA) or a similar organization. This ensures that the company follows safety regulations and has the necessary insurance coverage.
Consider the services offered: Different moving companies from New York to Florida offer different levels of service. Some companies will do everything for you, while others will only provide transportation. Decide what level of service you need and choose a company that can meet those needs.
Ask about storage options: If you need storage before or after your move, ask the company if they offer this service and what the costs are.
Get a written estimate: Be sure to get a written estimate from the moving company to understand exactly what services are included in the price. This will help you avoid any unexpected costs.
Ask about additional fees: Find out if the company from New York to Florida charges any additional fees for things like stairs, long carries, or packing materials.
By considering these factors, you can choose a reliable and trustworthy moving company to help with your relocation from New York within the United States.
---
Essential Tips for Moving from New York to Florida in the United States
Plan ahead: Start planning your move well in advance to ensure that you have enough time to get everything done before moving to Florida.
Research your new location in Florida: Learn about your new location to get a sense of what it's like to live in Florida. This will help you make informed decisions about things like housing, schools, and transportation.
Gather moving estimates: Get estimates from multiple moving companies that operates from New York to Florida to find the best deal. Be sure to get a written estimate and read the fine print to understand what is and is not included in the price.
Pack carefully: Use sturdy boxes and wrap fragile items carefully to ensure that they arrive at your new home in good condition. Consider labeling boxes with the room they are destined for to make unpacking easier.
Transfer utilities and update your address from New York to Florida: Make sure to transfer your utilities and update your address with the post office, your bank, and any other relevant parties.
Make travel arrangements: If you are driving to your new location, make sure to plan your route and book any necessary accommodations in advance. If you are flying, book your tickets and arrange for transportation to and from the airport.
Make sure your documents are in order: Make sure you have all the necessary documents, such as driver's licenses and registration for your car, before you move from New York.
By following these tips, you can make your plan to move from New York to Florida as smooth and stress-free as possible.
---
Main Cities in Florida
| Name | County | Land Area |
| --- | --- | --- |
| Jacksonville | Duval County | 1,936,661,562 |
| Miami | Miami-Dade County | 93,228,983 |
| Tampa | Hillsborough County | 295,270,486 |
| Orlando | Orange County | 285,216,228 |
| St. Petersburg | Pinellas County | 160,184,468 |
| Hialeah | Miami-Dade County | 55,517,866 |
| Tallahassee | Leon County | 260,157,097 |
| Port St. Lucie | St. Lucie County | 308,700,495 |
| Cape Coral | Lee County | 273,952,941 |
| Fort Lauderdale | Broward County | 89,577,004 |
Cheap Moving Companies from New York to Florida
Not all movers operate from New York to Florida in the US. From the list of moving companies in our database, we have sorted out the moving companies that provide moving services from New York to Florida.
To get moving quotes from the top rated moving companies from New York to Florida just fill out the form on top of this page. We will reach out to you within 60 seconds.
Name
Address

Allstates Moving and Storage LLC

IL

Direct Relocation Services LLC

4598 N Hiatus Rd, Sunrise
Fort Lauderdale, FL 33351

Whitaker and Sons

50 Locust Ave
Danbury, CT 06810

Finest Movers Inc

16850-112 Collins Ave. Suite 181
Sunny Isles, FL 33160

Infinity Van Lines

2525 Park Lane
Hallandale, FL 33009

Anthem Moving LLC

1 Bridge Plaza N Suite 200
Fort Lee, NJ 07024

Gateway Moving and Storage

12747 Olive Blvd., Ste. 300
Saint Louis, MO 63141

Alliance Movers Inc.

1658 Milwaukee Ave., #100-4754
Chicago, IL 60647

Trinity Relocation Group

2300 Palm Beach Lakes Blvd.
West Palm Beach, FL 33406
---
See Recommended Movers Cost Calculator
New York to Florida Movers Cost Calculator
---
Read more about moving from New York to the other states in the US