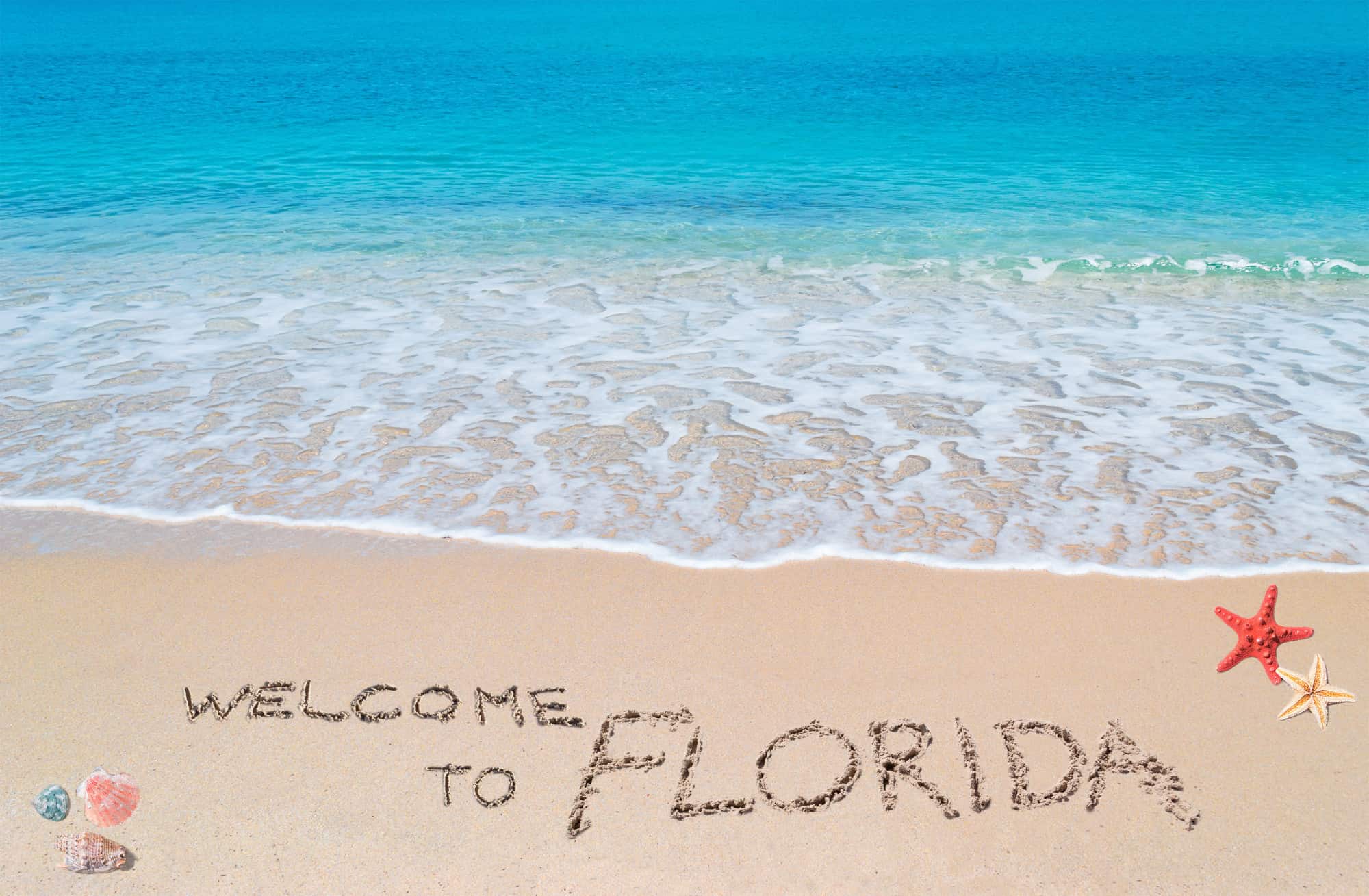 Between the spring of 2020 and the spring of 2021, nearly 330,000 people moved to Florida. Where are they all coming from? Statistics show that 15% of them came from New York. 
With more favorable tax laws, much better weather, and some great school systems, it's easy to see why so many New Yorkers are heading down south to the Sunshine State. However, while the cost of living might be lower, what do New York to Florida movers cost?
This cross-country move isn't as expensive as you'd think it would be. It's quite cost-effective when you consider all of the time, hassle, and taxes you'll be saving. Here's what to know about hiring movers to Florida from New York and why the move might be a great idea.
Moving From New York to Florida: The Pros & Cons
Before we dive into everything there is to know about New York to Florida moving companies and hiring moving services, let's talk about the pros and cons of moving from New York to Florida. After all, you want to ensure the move is right for you.
Climate
If you've spent even one winter in New York then you'll know just how miserable they can be. Honestly, it's one of the biggest factors people cite when they move away from the state. It couldn't be more different than Florida.
Here are three of the most significant differences between the two climates:
New York has a continental climate while Florida has a subtropical climate. 
New York's winters are long and cold with much snowfall while Florida's winters are short and mild. 
New York's summers are humid and hot while Florida's summers are long, humid, and very hot. 
That being said, both states have their pros and cons when it comes to climate. New York is a great place to experience all four seasons while Florida is a great place to escape the cold winters, for example.
Taxes
Those earning over $650,000 a year can save almost $70,000 in taxes by moving from New York to Florida. That's one of the biggest reasons why many New Yorkers are fleeing the state in favor of the Sunshine State.
The biggest financial draw for those moving from New York to Florida aside from the general cost of living is the fact that Florida doesn't collect a personal income tax. Compare this to the New York state income tax rate of about 4% to nearly 9%.
While Florida does collect taxes in the form of sales and excise taxes, New York also collects sales taxes. So, when it comes down to it, you're spending a whole lot more on taxes when you live in New York.
If you live in New Jersey, Oregon, Minnesota, or Vermont and want to escape the cold winters and high state taxes then you might also consider moving to Florida. Each of the aforementioned states charges state taxes of 10.75%, 9.90%, 9.85%, and 8.75% respectively.
Housing Prices
For this one, let's take a look at housing prices in Manhattan and Miami, two of the (arguably) most popular areas in each state. The overall cost of living is 122% higher in Manhattan than it is in Miami. That's not all, though.
Housing costs in Manhattan, NY are over 287% higher than housing costs in Miami, FL. The medium home price for a three-bedroom, two-bathroom home in Miami is $456,277. The cost for a similar home in Manhattan? Over $2.2 million.
Now, we know what you might be thinking. "Well, that's because it's Manhattan!" Great. Let's compare Jacksonville, FL to Rochester, NY. New York is still expensive (the entire cost of living is 8% higher).
Education
When it comes to education, it's all about where you move to. If education is important to you when moving from New York to Florida then we suggest looking at homes in St. Augustine or Sarasota areas. They're home to the top-ranked school districts in Florida.
However, in general, Florida schools offer great education opportunities. Reports from 2021 note that Florida ranked 3rd in the nation for K-12 achievement. It also ranked 2nd for improving the high school graduation rate.
Is Life in Florida Great?
Life anywhere is all about what you make of it! However, certain statistics point to the idea that 
Not sure where to move to? In terms of quality of life and value, the best cities to live in Florida are currently:
Sarasota, FL
Naples, FL
Melbourne, FL
Jacksonville, FL
Tampa, FL
Pensacola, FL
Dayton Beach, FL
Port St. Lucie, FL
Overall, Florida is a location that is great for both young professionals and families with children. As the state offers such a diverse geographic climate with plenty of things to see and do (hello Disney World and beach days!), it's ideal for a variety of people.
How Much Do Movers to Florida From New York Cost?
Based on the factors mentioned above, you might be considering a cross-country move to Florida. If that's the case then you're going to need to think about hiring moving services.
In general, the cost of moving from New York to Florida costs anywhere between about $1,200 and close to $10,000. We know that's quite a big range. However, the total cost depends on:
The total mileage
The size of your home
The time of year
Additional services needed
Ultimately, the best way to determine the total cost of your move is going to be to get a quote from a moving company. However, we'll walk you through some of the services you might need below. This will give you a good idea of what to expect.
How Much Are Movers From NYC to Miami?
We get this specific question a lot. If you're moving from New York City to Miami, how much can you expect to pay? Well, let's say you have a standard two-bedroom or three-bedroom house. The distance of that move is just over 1,288 miles.
According to historical averages, you can expect to pay anywhere between about $2,200 to about $3,300 if all you get is a moving container. Expect to pay slightly more for movers (seeing as they offer you additional services that help make the move less stressful).
How Much Is a U-Haul From NY to FL?
What if you just wanted to rent a U-Haul and pack and move everything yourself? Hiring a rental truck usually costs between about $1,000 to $2,000. However, given current gas prices, U-Haul is quoting over $4,200 to move a two-bedroom home in one of their trucks.
Keep in mind that quotes for a U-Haul or similar moving truck don't include additional services that moving companies can offer you.
What Do New York to Florida Moving Companies Do?
New York to Florida moving companies provide a variety of services to help make your move as smooth and stress-free as possible. This includes services such as:
Packing belongings in boxes
Loading boxes onto the truck
Transportation services to your new home in Florida
Unloading boxes at your new home
Moving furniture into your home
Unpacking items inside your home
In addition, many New York to Florida moving companies offer storage options in case you need somewhere to keep your things while you're getting settled into your new place. Likewise, depending on the company, they might also help you ship your car.
When it comes down to it, it's important to get quotes from different moving companies. This is the best way to ensure that you're not only getting a good price but that you're able to work with one company that can help you take care of everything (packing, loading, unloading, etc.)
Many New York to Florida moving companies can help make sure that your belongings arrive safe and sound. What you're looking for when you get a quote is a company that you can trust and one that is going to offer you a great price for the move.
How to Prepare for a Cross-Country Move
Preparing for moves can be stressful. However, when moving from New York to Florida you're moving from one end of the country to the other and we know how difficult it can be to stay on top of everything that needs to get done.
Here are some of our top tips for making a big move like this one.
Create a Long-Distance Moving Budget
To ease the financial stress of moving to another state, it's important to create a long-distance moving budget. This will help you keep track of your expenses and ensure that you don't overspend.
To start, make a list of all the potential expenses associated with your move. This might include things like renting a moving truck, hiring movers, travel expenses, and lodging. 
Once you have a comprehensive list, research the average cost of each item. This will give you a good idea of how much you need to budget for your move.
Next, start saving for your move. If possible, open a dedicated savings account for your long-distance move. This will help you keep track of your progress and make sure that your money is going towards your move. 
Finally, try to be as strategic as possible when it comes to timing your move. Often, the off-season is the best time to move to Florida from New York as costs are typically lower. 
However, be mindful of winter weather delays in the north that could affect the moving company's ability to drive through potential snow or ice. 
Oftentimes, late February or early March can be great times. Or, plan your move right after the summer months when things quiet down a bit.
Understand Local HOA Laws
It's important to note that Florida HOA laws are typically more lenient than those in New York. 
For example, Florida HOAs often allow owners to keep boats and RVs on their property, whereas this would not be allowed in a New York HOA. 
Florida HOAs also tend to be more flexible when it comes to enforcing rules and regulations. This is because Florida HOAs are governed by state law, while New York HOAs are governed by both state and federal law. 
As a result, Florida HOAs have more leeway when it comes to making and enforcing rules. However, there are some exceptions to this general rule; for instance, New York HOAs may be more lenient when it comes to pet ownership. 
Ultimately, the laws governing Florida HOAs and New York HOAs vary depending on the specific situation. It's important to understand these laws before purchasing a home and moving to Florida.
How Much Will It Cost to Move to Florida?
So, how much will it cost to move to Florida? It ultimately depends on the size of your home, the total distance the movers will be driving, and any additional services you might need to add to your quote.
The shortest distance from South New York to the tip of Florida is still just under 1,000 miles, so you can estimate that you'll have to pay a minimum of over $700 just for the mileage (without anything else added on).
Really, the best way to get a more accurate idea of what movers to Florida cost is to get a quote from a few reputable moving companies. Compare the quotes and decide whether or not the move makes sense right now or if you'd be better off waiting for another month or two.
Get a Quote For Movers to Florida From New York
Interested in getting quotes from multiple moving companies? At MovingRelocation.com we do the heavy lifting for you (figuratively, we mean…the moving company will do the physical heavy lifting!).
We've found the best movers to Florida for you and have pre-scanned them so you know you're only going to get quotes from high-quality, reputable companies.
Get quotes for movers to Florida from New York today. Just get in touch to get started!
For Accurate Free No Obligation Move Quote call 888-577-5678 or fill the online form here
---
See Recommanded Movers for this State
New York To Florida Moving Companies
---
See Other States Cost Calculator