Are you among the 13% of Americans moving across the country in the US yearly? If so, you know the process requires juggling a lot of responsibilities. It's also mentally and physically tiring.
Fortunately, there are some ways to streamline the experience and reduce headaches. Take a break from packing and learn 15 hassle-free tips for how to move across the country in the US states!
1. Start with a Checklist
Wondering how to move across the country? Start by staying organized with a checklist! Whether you have weeks or months to prep, you'll want to outline key steps and deadlines.
For instance, gather as many free boxes as possible if you're packing alone. Additionally, you'll need to amass newspapers, packing peanuts, and other supplies. Put these tasks on the front end of your checklist, so you don't wind up unprepared.
Forward your mail to your new address and make travel arrangements for pets. You may also want to gather medical or dental records, so you're ready to connect with new medical professionals. And, of course, confirm a time to disconnect utilities and cable.
Organize your tasks on a calendar that you and others involved can access. You can delegate responsibilities more efficiently. Plus, you'll be able to hold each other accountable!
2. Pare Down Your Belongings
Long-distance moving can be a costly experience if you're not careful. That's why you'll want to appraise your belongings honestly — and then make cuts.
Host a garage sale in the neighborhood and post items to online sales platforms. You'll be able to earn some money while chipping away at your moving footprint. For moving companies that determine costs by weight, you'll be in better shape without a bulky armoire!
3. Build a Budget for Moving Across the Country in the US
Before you start booking anything, hammer out a budget. If a new job provides a stipend of $2,000 to help with costs, figure out what is most essential. For cross-country moving, driving an unwieldy truck may be the most significant task you want to hand off to someone else.
You can delegate the heavy lifting and driving responsibilities but save money by packing yourself. You may need two or three movers for your job. It's generally customary to tip about $5 per hour per mover.
Examine quotes from multiple moving companies. And ask about payment policies. You may need to pay half the price on the front end, so make sure you have the funds ready.
Factor cleaning costs, fuel surcharges, and extra cargo into potential moving charges. Save money by gathering as many old boxes as possible, and pay family members and friends with a free meal to get some help.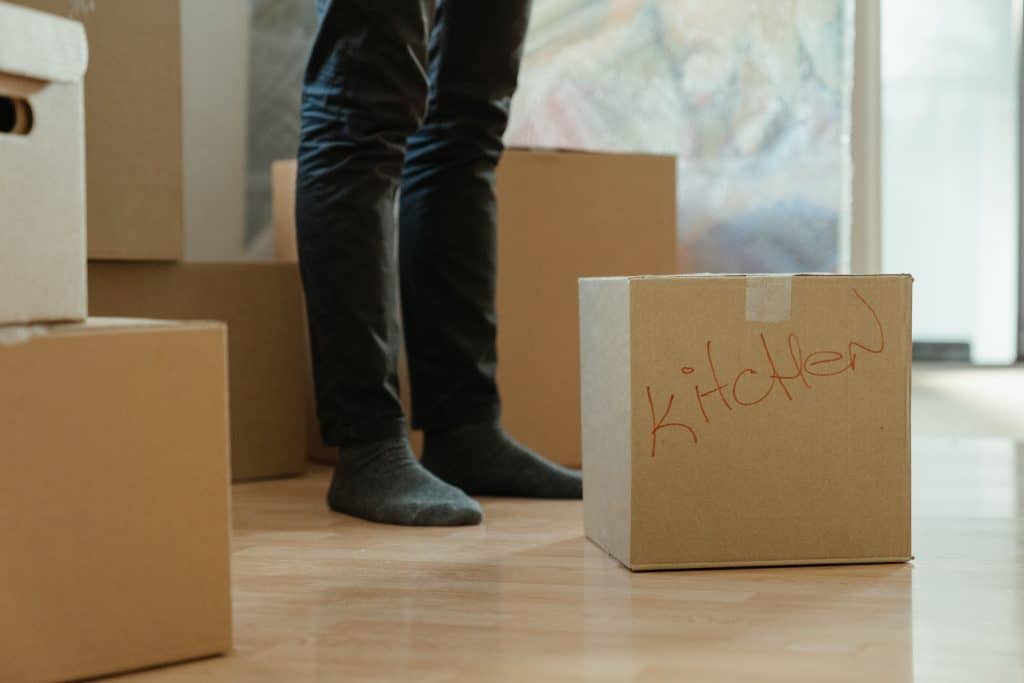 4. Earmark Critical Boxes
Which items will be most critical to access immediately in your new place? Designate certain boxes and consider putting them in your personal vehicle, if possible. Otherwise, it could take days to sift through a mountain of boxes to find your prized items.
Coffee makers, garbage bags, and essential tools are all good items to earmark for easy access. Include flashlights, towels, and toiletries that you'll want right away. A first aid kit, a few quick-cooking tools, and extension cords are smart to earmark, too.
Place jewelry and other valuables in earmarked boxes. Birth certificates, passports, and other sensitive documents should also travel with you. While driving to your new home, take these valuables into hotel rooms when you stay overnight.
5. Ask Questions About How Shipments Will Arrive
In other words, can you expect all of your boxes and belongings to arrive simultaneously? Or will you be sharing space with someone else on a moving truck? You should address these questions with your moving company before signing any paperwork.
At the same time, you'll want to do inventory on your boxes. If items arrive in a staggered manner, you'll want to be sure everything eventually shows up. Track all boxes on a spreadsheet and check off each one as you open it.
6. Focus on Furniture Prep
If you have a lot of furniture, factor it into your choice of moving company.  Furniture can chew up floor space on a moving truck. The more you can do on the front end to minimize its footprint, the better for your bottom line.
Empty all furniture, and consider removing drawers from dressers. Alternatively, use stretch wrap film to secure the drawers to the main structure. Unlike packing tape, you won't be stuck with a sticky residue when you try to remove the film days or weeks later.
Does your dining room table come apart? Then dismantle it and stash the hardware in a designated — and clearly labeled — bag. Bundle the legs together and protect them with bubble wrap.
7. Go with a Reputable Moving Company
Moving across the country involves a lot of logistic challenges — so a professional moving company is vital. You want movers who are bonded and insured. You also want movers who return calls promptly and have the experience to move efficiently if they charge by the hour.
Also, ask about the cancellation policy. If closing on a home falls apart, you might not be able to stick with your intended moving dates. And you'd hate to be stuck paying thousands of dollars in moving expenses.
Many moving companies will allow cancellations a week before the moving dates. As a result, you may need to pay $100 or so in a cancellation fee. But get confirmation of the cancellation policy from your moving company in writing.
8. Consider Essential Moving Supplies
Moving is more than piling a bunch of boxes into a truck. Aside from labor, boxes, and the truck, you'll need to account for other supplies. For example, you'll need lots of packing paper, furniture, blankets, and tape.
Ask moving companies what is included before you sign a contract. If you hire a company to do the loading and driving, don't assume that furniture blankets are already on the truck. This may be an extra cost you'll have to reserve.
Do you own a lot of fancy dishes? Old shipping boxes and newspapers may not be sufficient to secure them during a long drive. Plan on getting corrugated boxes with partitions designed to provide sturdier protection. Get foam pouches and bubble wrap, too, to cushion the edges of boxes.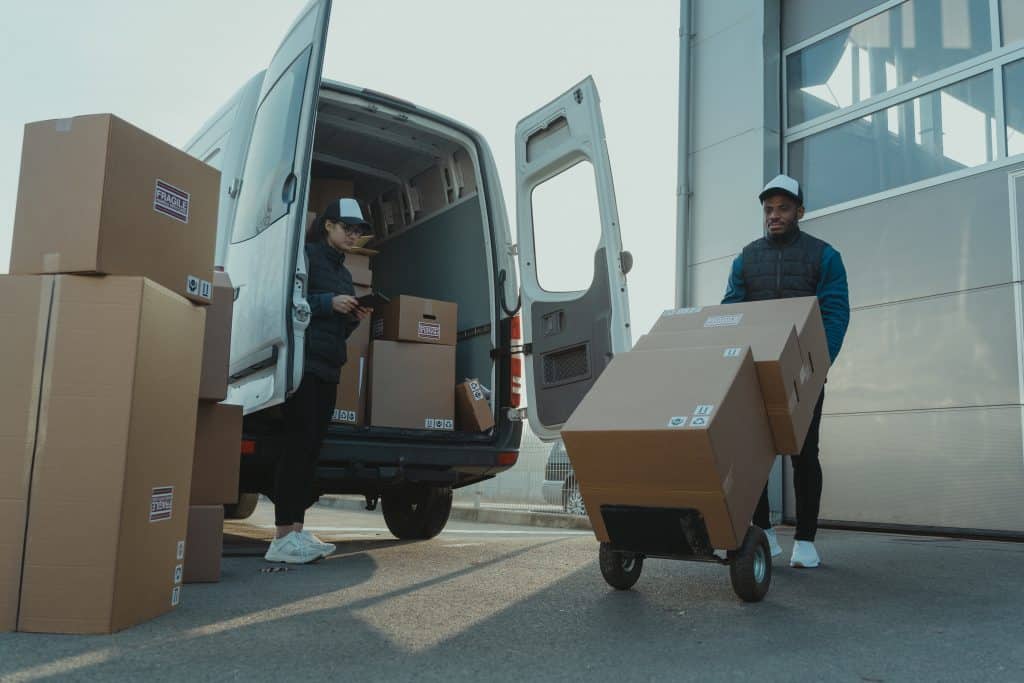 9. Are Your Items Insured?
In the frantic flurry of moving, you don't want to forget about this question. Your moving company must insure your items through one of a few policies. Moving companies must offer these policies when moving across the country in the US.
With released value protection insurance, you won't need to pay anything extra — but you might not gain much in return. This is because you only get 60 cents per pound for each pound of damaged goods. When you do the math, you'll see that it amounts to only a few dollars for items that may be worth far more.
Upgrading to full-value protection entitles you to a lot more. A mover may need to replace or fix an item lost or damaged. While they won't be responsible for expensive items, like jewelry, they'll still be far more accountable for any problems.
You'll have to pay for full value protection; your deductible will determine the amount. Finally, with third-party insurance plans, you can expect the weight of your goods to dictate how much you would get in compensation. Be sure to ask what options are available and determine how much risk you can handle.
10. Choose the Right Time to Move Across Country in US
What time of year are you hoping to move across country in US? If the answer is spring or summer, you'll have a lot of company. And that means you may end up paying more.
For a thriftier move, plan to do it during the less congested winter months. Even better, if you opt for a weekday, you could score better. Weekends tend to be the busier days for moving companies.
11. Polish Your Packing Game
The last thing you want to see is a box bursting open as you carry it out of the house. Take the time to secure boxes with multiple pieces of packing tape and use big bubble wrap.
Consider who will be helping you move, too. If your workforce consists of family and friends, be considerate by packing manageable boxes. Avoid stuffing them with hardcover books that cause someone to pull a back muscle.
Label boxes clearly if they are fragile. Put bubble wrap or paper in boxes that have some space inside. This will help prevent hazardous items from shifting and potentially breaking.
12. Keep Moving Receipts
When you're moving across the country due to a job change, you might be able to deduct the expense. You could pay thousands if your new company isn't footing the bill. But you could recoup some of the costs.
Keep your receipts — and keep them in mind when tax season rolls around. For moves associated with job relocations, you can deduct costs for you or a spouse. You'll need to satisfy some criteria, including moving at least 50 miles from your previous employer.
And you'll need to move within a specific window after starting a job. But what if one spouse stays put because a child is finishing the school year, and the whole family doesn't move until a year later? There are exceptions, so check with a tax specialist.
13. Try Negotiating
It never hurts to compare prices among different moving companies in your region. For instance, some may have a pricing structure that better meets your needs. If you're looking to do the packing but hire out the heavy lifting, look for moving companies with an a la carte approach.
Once you have quotes from a few places, start comparison shopping. Don't be afraid to leverage one moving company against another. Especially for an off-season move, you might be able to negotiate a better price if the business is slow.
14. Don't Overlook Cleaning
Once your old place has been cleared out, you'll want to ensure that it's clean for the new occupant. After all, you don't want them to see a suspicious stain and start questioning the home's structural integrity.
Similarly, you'll want your new home to be clean. In either instance, you can expect a lot of physical work to scrub floors, remove carpet stains, or wash windows. You may better outsource this responsibility to a third-party cleaning company to save time and energy.
15. Know What Fees Are Included in a Quote
Knowing how to move across country in US means knowing what fees to expect. Do you live in a highrise? If so, you could pay a one-time cost for the extra challenge of negotiating an elevator.
Ask how mileage factors into your quote. For example, some moving companies use a flat fee depending on geographic region. For a more extended cross-country moving experience, the moving company may charge by the mile plus fees to cover tolls.
While you're at it, ask if there are fees for movers to disassemble furniture. Bulky furniture that won't fit as-is on the truck may require this extra effort. Similarly, some pieces of furniture, such as a piano, may require delicate handling or equipment, like a crane, for removal.
Get Ready to Move Across Country in US
A move across country in US states can feel like a daunting process if you're unprepared. But long-distance moving tips, like making a checklist, can help you stay calm and organized. You'll also be able to stay on budget, optimize timing, and pack items carefully.
Ready to get moving? Check with us, and we can help!
Photos from PEXELS.