At least 64,000 Californians have made the move to Arizona between the years 2016 and 2020. There could be a number of reasons for this number of migrations, but the truth is that Arizona has become a popular moving destination. This is causing potential movers to wonder about California to Arizona movers cost.
Now, people are willing to become Arizonians for more job opportunities, cheaper housing prices, a wide variety of retirement options, and even dryer weather. The list could go on, but the reasons for moving are different for everyone. With milder winters across the state and the cost of living seeming a bit more appealing, the more you think about it, it's not hard to see why this move isn't uncommon.
While Arizona may seem pretty close to California, it can take over 12 hours if you're traveling from the middle of one state to the middle of the other. While the time it takes to pull off this move varies depending on your exact destination, you have to consider how much you're moving. Let's take a look at how much it costs to pull off a relocation project from sunny California to even sunnier Arizona.
How Much Will California to Arizona Movers Cost?
People often wonder how much it costs when you're moving to Arizona and working with a long-distance moving budget. Moving to California from Arizona will vary depending on the person, the property, and other aspects of the trip.
On average, interstate moves that are less than 1000 miles will cost anywhere between $3500 and range as high as $10,000. Hiring moving services is a good way to cut down on trips that you need to make and the overall price of moving.
The main reason for this is that you're getting professional help, your furniture and household items will often be insured when you work with professional services, and you're saving a significant amount of time.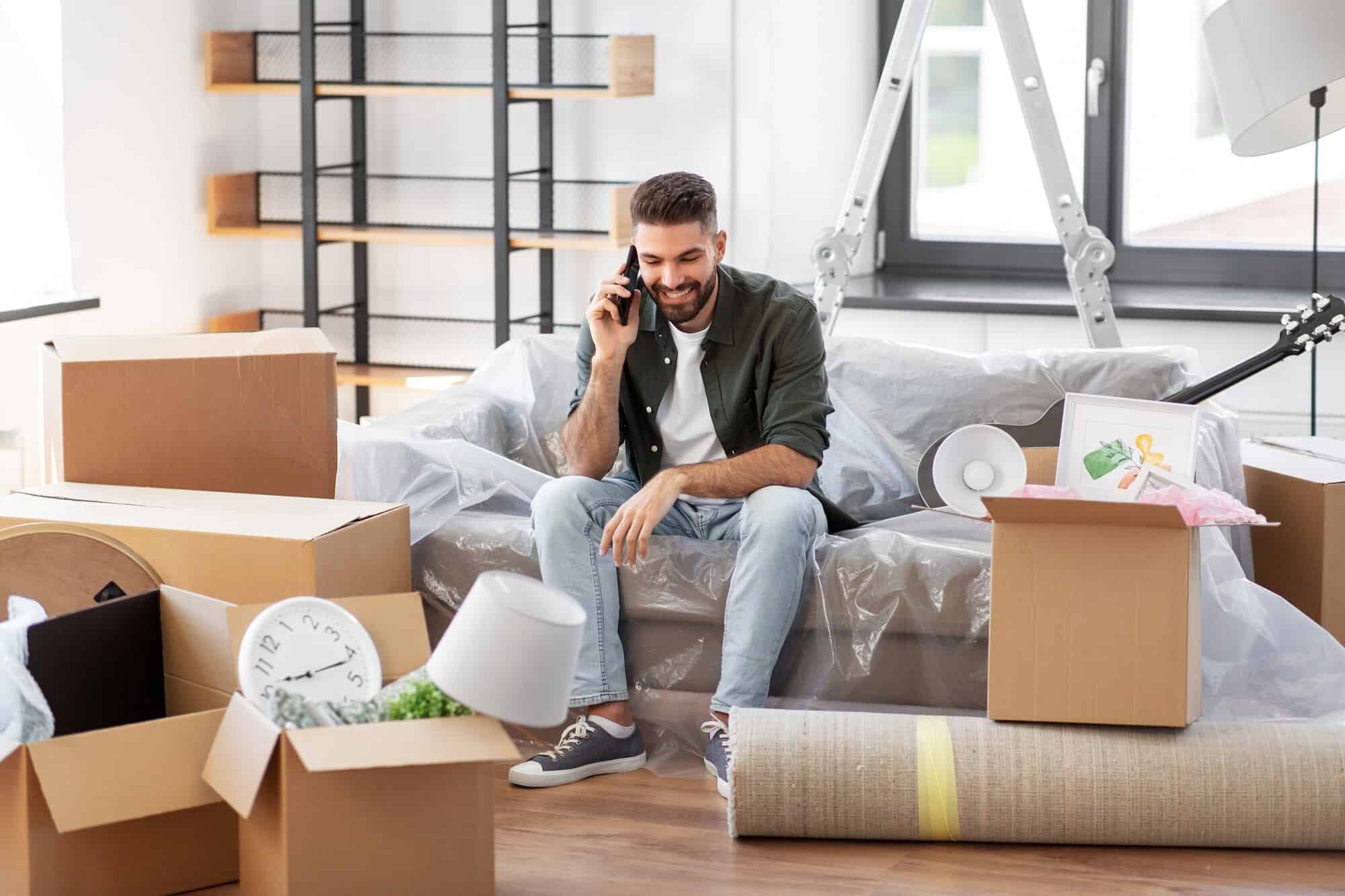 What Affects the Cost of Your Move?
Keep in mind that there are multiple things that could affect the cost of your move. Depending on how you want to move your things from point a to point B, this will be the base of your cost. This could mean anything from whether you decide to drive your items to your new location with your personal vehicle. Keep in mind, though, that with this option, you will often make multiple trips even if you own a large truck.
This is especially true if you are trying to move items from a large condo or even a small home. If you decide to rent a moving truck and also act as your own mover or enlist free help from family members, this could be quite taxing on not only yourself but the people that are helping. This can also become increasingly taxing depending on how much furniture you have, as you still may need to make multiple trips.
One of the most popular options, however is to work with a moving company or hire movers. The reason for this is to have less work to do on your own. This option is also very popular for those moving between states.
Aside from your method of moving, you have to also take into consideration how much stuff you're moving. Consider whether you're trying to move all of your furniture and household items from a four-bedroom home. Even if you're moving from a two-bedroom apartment that has a lot of square footage, this could still equal a large number of things to move.
After considering your method of moving and how much you're moving, you want to also consider whether you require or simply prefer professional help or if you prefer to do it on your own. Of course, professional help will come at an additional cost but you will recognize significant savings in time and have fewer things to do.
How Are Moving Costs Actually Calculated?
When it's time to relocate, the cost of your move is not a blind guesstimate. For a local move, you're taking into consideration the actual number of hours it takes to move by what the moving company you decide to work with charges per hour.
There are also additional charges that may be added as well. Some of those additional charges could be packing materials, the time it takes for the entire trip, and special materials that movers might need to use. Some moving companies will also base your price on how many rooms you have in your home and how many large pieces of furniture you have.
Most large pieces of furniture will include things like dressers, large appliances, and pieces of furniture that have not been broken down. In addition, moving companies will also consider how your home is laid out.
For example, if you lived in a loft that has a very narrow set of stairs, or an oddly shaped entrance, this could require an additional mover or additional work. This could also affect the cost. How many movers would be required to pull off your project could also affect your price.
An example would be if you have significantly heavy furniture and not only one or two heavy pieces but multiple heavy pieces; this could also affect your price. Keep in mind, though, that some companies may offer an overall package that will likely cover the majority of these things, but it's still important to know what factors can cause an alteration in price when you're moving from California.
Are There Ways to Reduce the Cost of Your Move?
One of the most popular questions asked by movers is how you can cut down on your overall move. One of the best ways to do this is to coordinate your move date by avoiding peak times for moving. Oftentimes, moving companies will have cheaper rates between the month of September and April.
The reason for this is that the demand is significantly lower. You don't want to only think about the season throughout the year, you have to also consider the times of the week as well. Demand for moving is lowest during the middle of the week as well as days in the middle of the month.
The main trick to this is to avoid the months between May and August because this is what's known as the peak moving season of the year. There are also other things that you can do to alleviate high moving prices. Some of them are;
Try to downsize or break down large pieces of furniture
Ask your friends and family to help you move
Check if you can deduct your moving costs during tax season
Be very specific about what you need from your movers
Saving on moving costs when moving to Arizona isn't as difficult as you might think. While moving things yourself may seem cheaper in the beginning, it could be more trouble than what you think it's worth.
When you consider doing the labor all on your own, renting a truck, driving it yourself, handling gas prices, and then unpacking it all on your own, working with a professional company becomes even more appealing. These are the main reasons that people moving from California look for ways to reduce their overhead costs on their move.
Any Other Suggestions on Moving?
You can save even more by directly asking for discounts and asking about any moving specials a company has going on. Also, if you have a bit of time before your move needs to happen, take advantage of that. Be proactive and see if moving companies have certain sales or specials during certain times of the year.
If so, you may be able to coordinate your move around that. You can save even more by helping out with some of the labor. If you can break down furniture, enlist family and friends, pack some or all of your own boxes, and even carry large items to your main floor if you have a multi-story home, you could offset a lot of costs in some cases.
Keep in mind that moving prices could increase based on the weight and size of your furniture and how difficult it may be to remove it from your home. If you can handle the majority of those things, you might notice a difference in your grand total. Another thing that often goes overlooked as a potential price saver is directly asking the company if there are ways you can save.
This isn't necessarily mean sales and specials. This means that you want to know what you can specifically do to cut back on labor costs or general pricing.
Some companies may tell you that if you pack everything, you'll save. Or, they may say that if you help with moving things into the truck, you'll save because they won't need to provide as much manpower. The key is to ask questions.
What Makes the Move From California to Arizona Appealing?
While moving to another state may feel like an expensive chore, the end result might save you money. When moving from California you're avoiding high taxes, high costs of living, and gas prices that are higher than in most places. Many people move to Arizona to maintain a good quality of life without having to sacrifice their savings for it.
Arizona has also become a new hot spot for newcomers because of how versatile the environment is. The benefits are the warm weather, multiple areas that are great for both raising a family or retiring, and the job market is bustling. Right now, in Phoenix, for example, the area is expected to see a 48.2% increase in future job growth.
This is good news for those new or seasoned in the job market. This means that there are chances to have open opportunities, whether you're starting a career or looking to transition into another. With large amounts of people moving to Arizona each year, it's not hard to see why.
You Won't Be Short on Options
One of the main reasons isn't only the lower cost of living compared to California, but having no shortage of good neighborhoods to choose from that are actually affordable.
There are safe neighborhoods that can give movers peace of mind, and the state boasts a lot of cultures while still having open spaces. Each city has its own landscape in the form of environment and things to do. This may be one of the reasons the state is well sought out by movers because it has a variety of places for new families, single professionals, and retirees alike.
The appeal is in the multiple options that the state gives to newcomers. You have an abundance of choices in locations to help coordinate your move is based on what you want to find in your next home.
That is unless you're moving for work or other reasons where your location is already chosen. Either way, it goes, California to Arizona movers cost options make it well worth it.
Making the Move Easy
Pulling off a move, especially considering how fast you may want to get it all done, can seem a bit daunting. Now you know more about California to Arizona movers cost, and you might feel more prepared to start coordinating other aspects of your move.
Relocation can be a hassle, but Moving Relocation makes it the opposite. It can become even more tricky when you want to save money and protect the things that mean most to you by finding insured and licensed movers. To make the move simple, let us help you gather quotes, compare them, and secure them.
Just fill-up the Short Form in less than 60 seconds. You will get Moving Quote Prices Instantly.
For Accurate Free No Obligation Move Quote call 888-577-5678 or fill the online form here
---
See Recommanded Movers for this State
Tips for Moving from California to Arizona
---
See Other States Cost Calculator