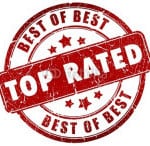 The Easiest Way to Find the Best Rated Movers? A Referral Service!
Wouldn't it be nice if there was some all-knowing expert out there who could tell you which moving companies were the best?
Luckily, something like that really DOES exist! It's called MovingRelocation.com for FREE moving referral service.
Like the name implies, these companies are in the business of referring customers to trustworthy, affordable movers. By logging onto the referral service's website and entering some basic information about your upcoming move, these services can provide you with a list of movers in your area that can get the job done.
But how do THEY know which moving companies are any good?
They do a lot of research!
After all, if a referral service is going to stake its own reputation on the movers it suggests, it has to make sure that they're only dealing with the very best rated movers. So, they'll have an entire list of criteria that each moving company has to meet before they'll even consider recommending it.
Before you take their advice, though, you need to find out what those criteria actually are. Luckily, a good referral service will be happy to explain their evaluation process to you. For example, most referral services will check to see that a particular moving company is licensed, bonded, insured, qualified to do local and long distance moves, and that they meet all state and federal requirements.
However, MovingRelocation.com  great referral services takes a step further.
In addition to doing that "basic" checking, they'll also look into a mover's customer service, and they'll have a comprehensive system for ranking each moving company in their database. Best of all, they'll tell the moving companies in their database about their system, so that they know to live up to the high expectations — or else! As a result, you can rest easy knowing that if they're recommending a company to you, it must be a good one.
Bottom line — a moving referral service will do all of the homework that you normally would have to do yourself. But, instead of spending hours wandering around the web, you can get fast, easy answers that have legitimate research behind them.
Want even better news? A referral service will put you in touch with the best rated movers in your area for free!
Referral services make their money from the movers, instead of from you. Every time they put a mover in touch with a customer that signs on the dotted line, the referral service gets a commission. That way, you can skip all of the legwork AND keep your money in your pocket.
Once you use a MovingRelocation.com to find the best rated movers, you'll wonder how you ever managed to move without it!